It took a while to find just the right organization, but I did: One that believes that education is a constitutional right and which is 
committed to the education of underserved kids.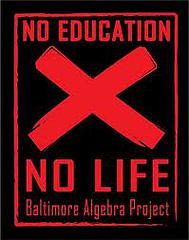 The Baltimore Algebra Project is "a youth-led and youth-run non-profit organization promoting math literacy and jobs in a knowledge based society." Check them out here and be inspired to donate as much as you want and can when downloading my songs (available May 29, or sooner if you're on my mailing list).
I'm so excited to announce that all download proceeds from Limbo (Baltimore | Los Angeles) will go directly to this well-deserving organization.