I'm developing new workshops for in-person and online singing. Want to be the first to know? 
Want to suggest a topic or a city?
---
REGISTRATION CLOSED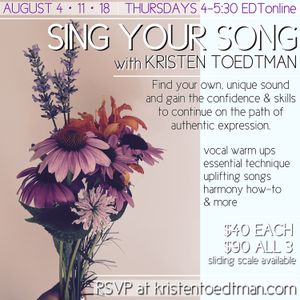 THURSDAYS at 4:00 - 5:30 EST online
August 4
August 11
August 18
Sign up for all 3 or drop in
Singing is our birthright! We have been breathing since the day we were born and will continue to breathe until the day we die. We use our voices every day for all sorts of purposes: from the quotidian to the divine, from ordering food to whispering words of love. We are experts at both these things. We are all singers. 
Have you always loved singing but want to know more about what's going on inside? How to hit notes with more reliability? How to expand your range, how to connect to your breath? 
This workshop is for singers who want to dive deeper into the craft of singing and for those who are new to singing and for all who would like a weekly tune-up, no matter where you are in your journey. 
The online format is terrific for finding your own comfortable space to sing and explore your voice. 
Each class will have the following: 
Vocal warm-up 
Learn a song 
Q & A 
Song share opportunity (and option for open one-on-one coaching) 
Class One: 
The voice as instrument - what makes it similar to other instruments and beautifully unique 
How to "warm up" your voice - when to do it, how to do it and why 
Onset exercises: these simple exercises bring coordination and efficiency to the start of your sound which influences the quality of your tone and brings connection to your breath. 
Q & A focus: technique 
Class Two: 
Alignment and Breath exercises 
Resonance: We have a variety of resonators in our human instrument which vibrate in response to our vocal cords.Did you know that what we hear when we sing is mostly our bones resonating? We'll explore head and chest resonance and how to blend them. 
Apply the technique to songs we'll learn and sing together 
Harmony basics and exercises for harmonizing 
Q & A focus: resonance and harmony 
Class Three: 
Range building exercises. You'll learn exercises to take with you for daily practice to increase your range. 
How to harmonize a melody 
Learn 1-2 harmony songs 
Join me for all three classes or drop in as you're available.
REGISTRATION CLOSED